Heat Maps
Leveraging Heat Maps to Boost Content Performance
Heat maps are one of the most vital tools available to SEO professionals. If you want to optimise your website and increase conversion, you need to know what heat mapping is and what it can do with your current SEO campaign. Is your website content converting? This is a question that a lot of website owners are plagued with. And with the use of heat map, you will be able to find the answer to this question.
What is a Heat Map?
A website heatmap is a graphical representation of data relating to users and content on your website. This is an important website analysis tool as it allows you to visualise behavior of site visitors in relation to a specific content on your website.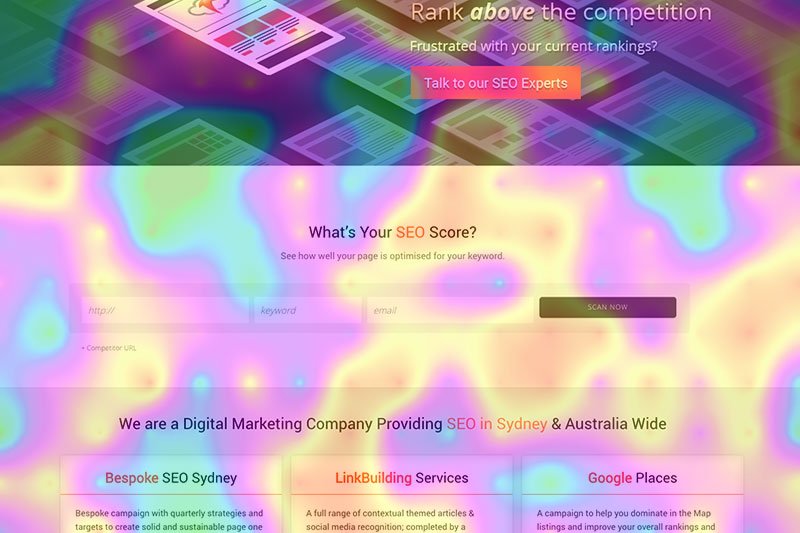 When talking about a heat map, there are actually several types of them and the information they can produce. First is the click heat map, which tells you where users have clicked on your website. Another type is called scroll heat map that indicates how far into your website the user has invested to explore. Meanwhile, an attention heat map is designed to trace specific areas that got the user's attention most. And mouse movement heat map is designed to trace the path users took to get to a specific content.
User behavior is an integral component to boosting conversion. With this data, you will be able to map out a plan that will lead them to convert.
Test, Not Guess
You have invested too much money and time on building your website, developing content and promoting it to leave performance analysis to guesswork. A heat map test will generate valuable information relating to your usability testing strategy. Before you launch a website, usability testing is designed to provide feedback you might overlook initially. Is the website easy to navigate? Does it encourage navigation or exploration? Is it easy to use? Heat map tracking will show which areas of the website the user clicked on, or spent the most time on.
This method not only applies to new websites, but also to existing ones. This information is useful to determine what components of your website are working and what you need to improve. Usability testing is highly crucial as it is often the first step before converting. Therefore, you need to gather data by testing rather than relying on pure instinct.
How to Use Heat Map Data
In an outline above, you have determined what are the types of data you can obtain through heat mapping. At this point, you need to know how to use heat mapping services for content strategy to boost your conversion rate optimisation.
Click heat maps will provide you data to determine the performance of your CTAs. If you are not generating a high CTR, then you can develop new strategies, such as changing a button's color, shape, size or position within the page, to make improvements.
With scroll heat maps, you will be able to assess the level of engagement that users have on specific content on your website. For example, do they scroll through to the end of a post or just hovering at the top? This means that they are not engaged enough to finish reading through the whole content. It will give you a chance to revisit the content and see what changes can be incorporated to hold readers' attention.
The attention map will allow you to refine the content that you have on a specific page. The idea is to retain user' attention; you might want to limit the media you include to ensure it supports the content, or remove any distractions from the side bar. This is closely linked with the mouse movement heat map as it also studies the correlation between your eye movement and your mouse movement.
This data from attention map is important to collect, as it shows you how your readers navigate through your content. Make sure you provide a call to action on where they should go next, within or at the end of the content. This is the right chance for you to showcase a product, service, or other relevant content within your website.
Heat mapping tools are one of the best-kept secrets of successful websites. Have you been using it yet? If not, this is your call to take action!