A/B Testing
Achieve A Healthy Website With Split Testing
A website heatmap is visual representations of a webpage that show how and where visitors interact with your webpage. Depending on the kind of heat map you're utilising, you can establish exactly what your visitors are clicking on, fishing for, scrolling towards or hovering over. Whatever data you collect, you can then use for split testing, also known as AB testing.
While a heat map test is an excellent web analytics guide that instantly points you in the appropriate design direction, and tells you whether your site's design is dead wrong or dead on, a split test will tell you if you need to inject a lukewarm visitor sentiment to heat up your design.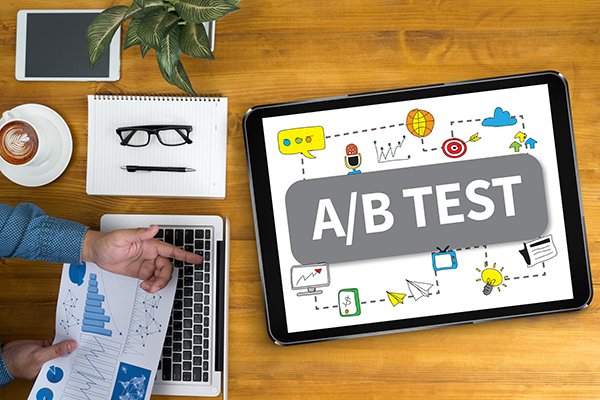 What is a Split Test?
This is a method where you present visitors and clients two variants of your website A and B. There are several areas where marketers run tests, such as visual elements, text, layout and visitor flow. During A/B testing, half of the site's visitors would see Headline A, for example, while the other half would see Headline B. You can then take note of the actions performed by visitors for each variant. For instance, you can tally how many placed an order from visitors presented with Headline A and those from Headline B.
Based on the results, you can then identify which headline made the most impact.
If you want to carry out several split tests concurrently, multivariate testing is the way to go. So instead of just testing the headline, you can also test other elements on a page, such as colour, buttons, and prices.
But if your main concern is to increase traffic to your website, you should have conversion testing services carried out. Find out why potential buyers abandon the checkout page, or why the bounce rate is higher from a particular product page.
Before you can put side by side two versions of your website – the original one and the one with changes, you should work on identifying which areas are in need of improvements based on the data from heat maps. So navigate through your content, call to actions and images to see exactly what is working for you, what's weak, what's not working and what's hot!
Some of the things commonly split test are landing pages, written copy vs. video sales letter, headlines/headings or subheadings, long vs. short sales copy, CTA buttons, and forms on a landing page.
Why is a Split Test important?
AB testing is done for two reasons – optimise and validate.
If you have an ongoing PPC campaign, a split test can definitely help optimise it, providing you with data as to which elements make or break conversion rates. This will make it easier to increase a PPC campaign's known conversion rates.
Do you need to know if a white paper or eBook would increase the chances for success of a marketing campaign that you wish to roll out? Split testing could help generate measurable results and validate the success or failure of your plans.
With this in mind, you should take advantage of A/B or multivariate testing service.